To delete a cloud connection
Direct your web browser to https://app.spotlightcloud.io.
Sign in with your Quest account.
Click on your profile icon (top right screen corner) and select Account Settings.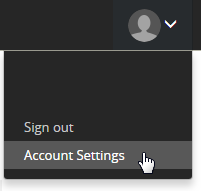 This opens Your Profile screen. From the left panel, click Connections.
The table in the middle of the screen lists the connections monitored by Spotlight.
Locate the cloud connection.
Hover the cursor over the cloud connection. A vertical line of three dots appears to the far right of the table.
Click on the three dots to open a menu of actions.
Select Delete to delete the cloud connection.