Open Spotlight Cloud product downloads
Direct your web browser to https://app.spotlightcloud.io.
Sign in with your Quest account.
Click on your profile icon (top right screen corner) and select Account Settings.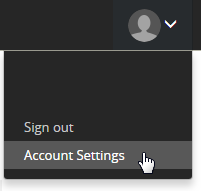 This opens Your Profile screen.
Product downloads
Spotlight Cloud Diagnostic Server application
From the left panel, click Spotlight Cloud Diagnostic Server App.
The Spotlight Cloud Diagnostic Server connects your SQL Server environment to Spotlight Cloud and uploads performance data to Spotlight Cloud for analysis. The application includes a configuration tool for adding and configuring connections for Spotlight Cloud.
Spotlight Tuning Pack
From the left panel, click Spotlight Tuning Pack.
The Spotlight Tuning Pack provides free plan analysis and automated query tuning from inside the SQL Server Management Studio (SSMS).