Open the Billing & Subscriptions page
Direct your web browser to http://app.spotlightcloud.io.
Click on your profile icon (top right screen corner) and select Account Settings.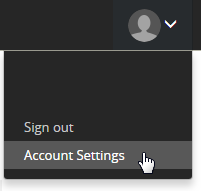 This opens Your Profile screen. From the left panel, click Billing & Subscriptions.
If instead of your profile icon, you see a
link in the top right corner of the Spotlight web site then sign in using your Quest account.
Show your Spotlight subscriptions
The Billing & Subscriptions page tables your current Spotlight subscriptions. Each subscription has a plan, a start date, auto-renewal date, status and owner. Click the tabled Spotlight Cloud | SQL Server link for more information on your organization's Spotlight Cloud subscription.
By default, the table shows only active subscriptions. Use the drop down menu in the right corner above the table to show expired, canceled or all subscriptions.
Subscription Details: Manage subscription renewals and compare features
On the Billing & Subscriptions page, click on the Spotlight Cloud | SQL Server link to manage your organization's subscription to Spotlight Cloud and compare Spotlight Cloud subscription plans and pricing.
On first subscribing to Spotlight Cloud your subscription level is Trial Professional. Click on the View included features link to compare plans and pricing.
If applicable to the subscription, there is an opportunity to renew and access support.