Open the Billing & Subscriptions page
Direct your web browser to https://app.spotlightcloud.io and sign in.
Click on your profile icon (top right screen corner) and select Account Settings.
This opens Your Profile screen. From the left panel, click Billing & Subscriptions.
From the Billing & Subscriptions page confirm your subscription plan is Professional. This help page is specific to cancelling a Spotlight Cloud Professional subscription.
From the Billing & Subscriptions page click the tabled Spotlight Cloud | SQL Server link.

Turn OFF Auto Renewals
From the Details for Spotlight Cloud Professional page, turn OFF Auto Renewal
.
.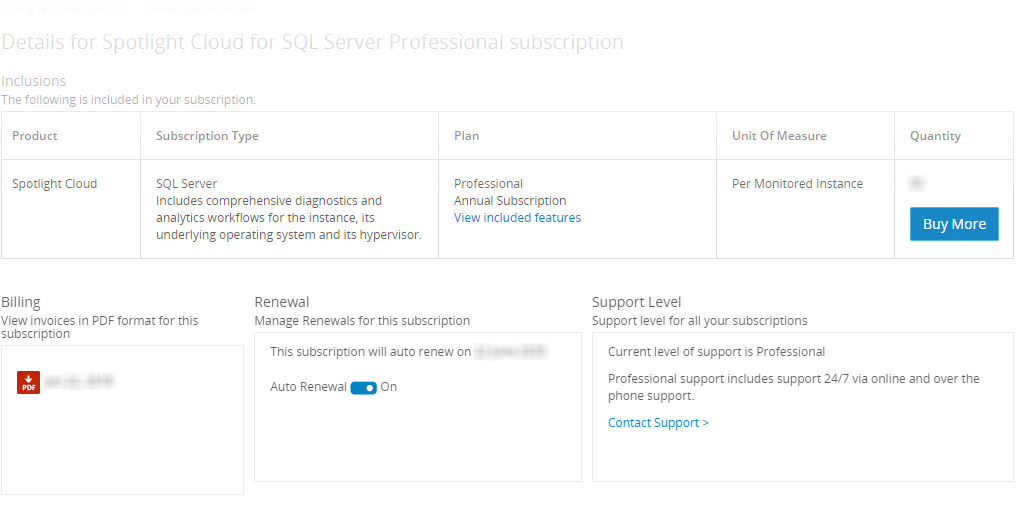 You will continue to enjoy the benefits of Spotlight Cloud Professional until the renewal date. On this date your subscription will revert to Spotlight Cloud Basic. To cancel your Spotlight Cloud Professional subscription before the renewal date, please contact Quest Support. To compare the features of Spotlight Cloud Professional to Spotlight Cloud Basic see pick the plan that is right for you.
How to manage your Spotlight Cloud Connections
Spotlight Cloud Basic monitors fewer connections than Spotlight Cloud Professional. When the Spotlight Cloud Professional subscription is reduced to Spotlight Cloud Basic the number of connections Spotlight Cloud can monitor is also reduced. Say for example you are monitoring 10 connections and the subscription changes to entitle you to monitor only 5 connections then monitoring of the 5 most recently enabled connections will be disabled. To change the selection of enabled / disabled connections see how to Enable / Disable connections. You may choose to disable monitoring of some connections and so other connections can be monitored.
How to contact Support
How to stop uploading data to Spotlight Cloud