How to show/change your account profile
Direct your web browser to https://app.spotlightcloud.io.
Sign in with your Quest account.
Click on your profile icon (top right screen corner) and select Account Settings.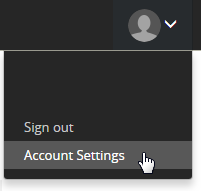 This opens Your Profile page.
Your profile settings
Details
From the Details section of Your Profile page, you can update your personal details - name and address (including email address) - if required. Scroll down and click Save to save changes.
Manage password
Click Change Password to change your password to your Quest account.
Your default organization
The Your default Organization section of Your Profile screen shows the name of the Spotlight organization associated with your Quest account. There is an option to rename this organization.