Requires Spotlight Cloud Professional
How to open the health check page
Sign in to https://app.spotlightcloud.io to see the Monitoring tab. Following sign in you can open this page from the navigation menu top left of the Monitoring screen. Select All from the list of available connections; select Health Check from the list of available displays for All connections.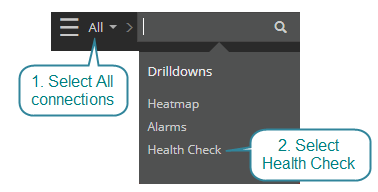 About the health check page
Each of your SQL Server instances is checked and rated as having (red) one or more high priority issues, (yellow) one or more low priority issues or (green) no health issues.
From the pie chart you can see the number of SQL Server instances in each category. Hover the mouse over a pie color for more information. Click on a pie color to open the left menu. From the menu, click on a SQL Server instance to show the health issues for the SQL Server instance in more detail.